The Constructing Excellence Yorkshire and Humber (CEYH) Awards 2020 recognise the very best collaborations and projects sharing best practice, innovation and technical achievements to inspire others to adopt better ways of working, attaining the highest health and safety standards and lowest environmental impact. 
Innovation Fire Engineering Ltd are proud sponsors of the 'Building Project of the Year' at the CEYH Awards 2020. This year there will be two winners <£10m and £10m and above.
The 'Building Project of the Year' is an exciting and diverse category, which highlights the 'benefits achieved through the application of many of the principles described in the other categories'.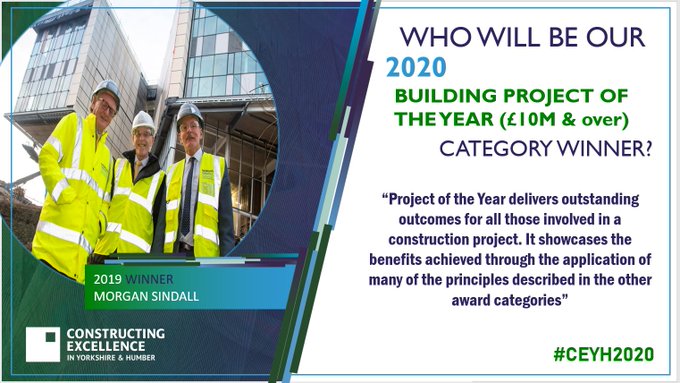 Categories:
Building Project of the Year 2020  (sponsored by Innovation Fire)
Civil Engineering 2020 (sponsored by Gosschalks)
Client of the Year 2020 (sponsored by Addleshaw Goddard)
Conservation & Regeneration 2020 ***Available to Sponsor***
Digital Construction 2020 (sponsored by Trimble Tekla)
Health, Safety & Wellbeing 2020 ***Available to Sponsor ***
Innovation 2020 (sponsored by Faithful+Gould)
Integration & Collaborative Working 2020  (sponsored by Turner & Townsend)
Offsite 2020 (sponsored by Clarion Solicitors)
People Development 2020  (Sponsored by CIOB Yorkshire )
Sustainability 2020 ***Available to Sponsor ***
SME of the Year 2020 (sponsored by YORhub)
Value 2020 (sponsored by Shulmans
Closing Date for Applications: 24th April 2020
Shortlist Announced: 26th May 2020
Gala Awards Dinner: 9th July 2020
Contact Liz and/or Donna via ceyhawards@leedsbeckett.ac.uk